Western Kansas Dairy At Risk Of Losing Permit
KSCB News - January 16, 2012 4:21 pm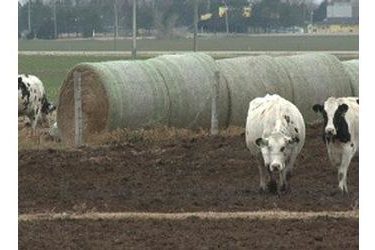 A large western Kansas dairy with a history of problems will have to close if it's unable to successfully appeal the revocation of a crucial permit.
The Kansas Department of Health and Environment gave notice to international milk producer Ceres Agrar GmbH last week that the agency intends to terminate the water pollution control permit for its Cimarron dairy in Gray County.
Terry Medley, the agency's livestock waste management section chief, said the company was developing a plan of action to bring the dairy into compliance and has indicated it will appeal by the Feb. 4 deadline. If the appeal is unsuccessful, the state could force the dairy to get rid of its herd, which could number as high as 9,050 cows.
"I think they understand now the seriousness of the violations," Medley said.
In April 2009, the KDHE ordered the company to fix several problems, but Medley said the problems weren't corrected. As recently as last Thursday night, there was a wastewater spill at the dairy.
Medley said the company has altered the earthen walls where animal waste was stored, allowing it to flow onto the ground and it sufficient storage capacity to handle cattle waste. He said channels have been altered to allow the waste to flow into low spots on the ground, where there was a risk of it leeching into groundwater.
"The permittee has had a long and continuing history of permit violations, therefore, KDHE is public noticing its intent to terminate the permit," according to a document filed in the Kansas Register. The document said the dairy failed to comply with the current permit, state and federal requirements and a consent agreement and final order that the dairy entered in October 2009.
Medley said the violations started in 2007 after CAG took over the dairy. CAG also acquired West Plains Dairy in Scott County in 2007 but has since sold its interests in that dairy. CAG still owns a dairy in Deerfield, which Medley said does not have any current violations.