West 7th Grade Wins at the Buzzer
KSCB News - February 1, 2016 9:48 am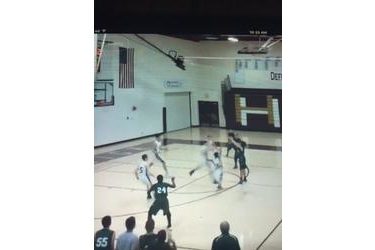 West Warrior 7
th
Grade results JANUARY 30
TH
vs Great Bend MS & Hays MS
West Warriors 7
th
grade remains perfect.
Saturday the 7
th
Grade West Warriors Basketball team traveled to Hays for matches against the Great
Bend Panthers and the Hays Falcons.
The first game featured the Warriors against the Panthers of Great Bend. Featuring speed for speed,
both teams traded points in the first quarter with West leading 8-7. The next three quarters, the
Warriors took control on defense shutting down Great Bend's three point threat. West lead at the half
23-14 and finished the game with a 46-30 victory. Maverick Mills finished with 17 points, Jaylen Staten
added 9 pts with 5 rebounds and 5 steals. Malachi Mullens garnered 4 rebounds and a blocked shot.
The second game of the day was an all out thriller. The Hays Falcons height, speed and 3 point attack
kept the Warriors on their heels throughout the first half. Leading 27- 18 at the start of the 3rd period,
Hays drained a quick 3 pointer to extend the lead to 12. The Warriors tightened up on defense forcing
turnovers and outscoring Hays 18 – 7 to take a 36-34 lead into the final 6 minutes.
With the score 44-42 in favor of Hays and 9 seconds on the clock, Jaylen Staten pulled down a defensive
rebound and drove up the court with an outlet pass to Embry Williams in the corner. Williams, blanketed
by two Falcon players, saw Maverick Mills open at the top of the 3 point line. Receiving a clean pass,
Maverick pulled up a 3 pointer taking nothing but net as time expired for a 45-44 win. Warrior Fans
erupted as players stormed the court in celebration.
In addition to his game winning shot, Maverick Mills finished the day with 23 points and 5 rebounds.
Embry Williams and Darius Archuleta added 9 and 8 points respectively.
West remains undefeated at 6-0.