Weekend Rattler Round Up
KSCB News - June 22, 2015 1:52 pm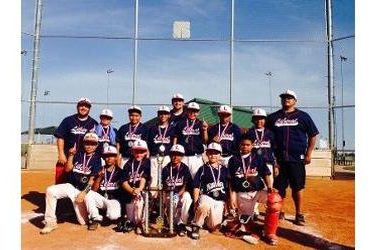 The 10 year old Rattlers went and played in the Hays Featured Tournament. The team went 5-1 overall and won the championship game 8-6 against Saline County.
Pool Play – Beat Scott City 12-9
Beat Saline County 9-8
Lost to Hays Indians 9-8
Bracket Play – Beat Dodge City Bandits 10-6
Beat Tri County 10-3
Beat Saline County 8-6 in Championship
13 and Under
Took 3rd Place at Pratt Wood Bat Tournament
Pool Play Saturday:
Beat Alva Yankees 15-1
WP: Ulises Rivera 6IP 0ER 6 K's
Syris Dunlap 3-4 2R 4RBI
Lee HAtcher 2-4 2R
Hunter Hatcher 1-2 2R RBI
Javier Bojorquez 2-2 2R 2RBI
Beat Pratt Outlaws 15-0
WP: Javier Bojorquez 3IP 0R 5 K's
Syris Dunlap 2-2 3R
Lee Hatcher 1-1 3R RBI
Hunter Hatcher 2-2 3R 2Rbi
Javier Bojorquez 1-1 2R 2Rbi
Braxton Hyde 1-2 1 R 2RBI
James Armstrong 3-3 R 3RBI
Aiden Pittman 1-2 2RBI
Isaiah Porras 1-2 RBI
Sunday Bracket Play
Lost to DC Cubs 7-3
Lee HAtcher 3-3 1 R 1 RBI
Javier Bojorquez 1-2 R
Beat Rattler Baseball CLub (Hutch Area) 5-2
WP: Evan BAyouth 6IP 2ER 6 K's
S: Braxton Hyde 1 IP 3 K's
Syris Dunlap 2-3 R RBI
Evan BAyouth 1-4 R
Lee Hatcher 3-3 R
Hunter Carson 2-2 R
Aiden Pittman 2-3 R RBI
16-2-2
Play League games at Beaver Tuesday and Start the Jim Clanton Invitational
14U Tournament in GC this Thursday or Friday.