Weekend Rains Bring Harvest To A Halt
KSCB News - June 14, 2010 12:00 am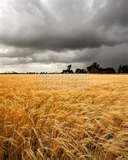 Heavy rains that soaked much of Kansas have caused further delays in this year's winter wheat harvest.
In a report not much, if any, harvesting occurred over the weekend after storms drenched much of the state.
Matt Gerard, a meteorologist with the National Weather Service in Dodge City, says rain reports in western Kansas included 5.11 near Hanston and 4.76 in Greensburg.
And he says south-central Kansas got rain ranging from 1 to 6.75 inches in 24 hours ending at 7 a.m. Sunday.
Gerard says creeks could rise across much of the state because many creeks and streams are near capacity. And the weather service says rain could continue in much of the state through Tuesday.