Middle School Results
Brock Kappelmann - September 10, 2018 6:23 am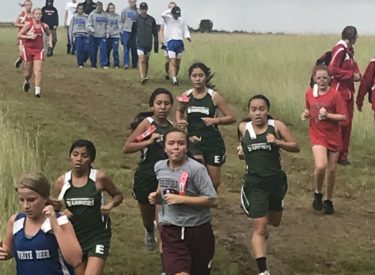 The 7th Grade Eisenhower Girls Volleyball team traveled to Garden city
City September 10th taking on Horace Good and Kenneth Henderson.
Round one saw the Lady Warriors saw action against Kenneth Henderson. They
exhibited great teamwork as the bench supported those on the court. The
first set was a blow out win at 25-11. In set two, the Lady Warriors kept
their energy at a peak finishing off the Falcons 25-19 to take the match.
Round two the Lady warriors took on Horace good. The first set proved to be
a nail-biter Starting slow, the Warriors tussled back and forth with a
motivated Hawk team. Late in the set,the Ladies gained momentum finishing
with a 26-24 win. The second set saw the Warriors capitalize on the
momentum against the Hawks. Eisenhower took control from the first serve
cruising to a 25-17 Match win.
Coach Collins was pleased with their effort, but stated they still have
work to do. "We will only get stronger as the season moves on."
Currently the Lady Warriors are undefeated at 3-0 , 2-0 in Conference play.
Next Game is Thursday at Holcomb. They also will play Saturday in the
Kepley Invitational – Ulysses, Ks.
Seymour Volleyball
Seymour Rogers played mswac teams at Garden City. 8h grade beat KH 25-17,25-18, Rylie Hillman closed out both games with point serving and lost a heartbreaker to Horace Good, 25-18,16-25, 11-15. B- team lost to Horace good 12-25,23-25, Alana King and Cruz each served nice runs to pull close in the second game, B team fell to KH 13-25,15-25
Seymour 7th Volleyball
*WIN vs. Horace Good (25-20, 25,12)*
*Set 1: *
Keyona Hall served up 4 aces, with 3 being in a row and being set point
Keyona Hall also played good offensively at the net with a nice hit with
the assist from Julissa Garcia
*Set 2:*
Keyona Hall had 5 serves in a row, with one being game point
Again, with some assists from Julissa Garcia, Keyona had 3 nice offensively
plays up at the net
Amy Rios also served up 6 points in a row
*WIN vs Kenneth Henderson (25-11, 21-25, 15-11)*
*Set 1:*
Karime Neave served up 7 points in a row and played very well defensively
with her passing game
*Set 2:*
Keyona Hall had some very nice serves with a couple of aces
Amy Rios stepped up and served 4 points in a row with 2 being aces
*Set 3:*
The entire team played very well and played together as a team. It was a
good defensively played game with lots of good passing
EMS XC traveled to Perryton today to compete in their toughest and biggest
meet of the season. Seventh and Eighth graders ran together. The girls race
consisted of 212 runners! As a team our girls placed 5 out of 15 teams. Our
lone medalist was Hallie West who placed 5th.
The boys race had 170 competitors. Our boys had 6 kids bring back medals.
Jose Relles 20th, Daniel Pavia 19th, Angel Real 16th, David Villa 11th,
Daniel Amparan 10th, and Gideon Wright finished 7th. Theses Warriors placed
1st as a team with a score of 61.
Next up, EMS will travel to Hays to compete on Tuesday at 2:30.
Brandi Fowler