Tuesday Fire Burns Swath in Colorado and Kansas
Brock Kappelmann - April 19, 2018 1:09 pm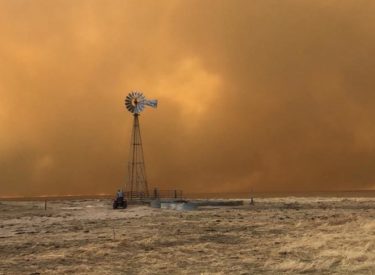 (AP) – Officials say a fire that crossed the Kansas and Colorado state line burned about 75 square miles of grassland.
Kansas Adjutant General's Department spokeswoman Katie Horner says about one-third of the burned land is in Morton and Stanton counties. The release says the wind-whipped fire that raged Tuesday and Wednesday also destroyed five Kansas homes and several outbuildings. Crews are monitoring hot spots, although the fire is largely extinguished.
Horner says another 26 fires burned Wednesday in Kansas and that five of them are responsible for consuming another 37 square miles.
In Wallace County  Sheriff Larry Townsend says three firefighters were treated Tuesday for smoke inhalation and heat exposure before being released.
The National Weather Service reports the fire in Baca, Stanton, and Morton counties injured two responders and one civilian.  The fire burned 33,384 acres in Baca County, Colorado and 15,000 acres in Kansas.  Eight primary residences were lost in Kansas.  The fire caused 250 thousand dollars damage in electrical infrastructure.