Webb Hired as Lady Saints Head Softball Coach
Joe Denoyer - July 26, 2021 12:23 pm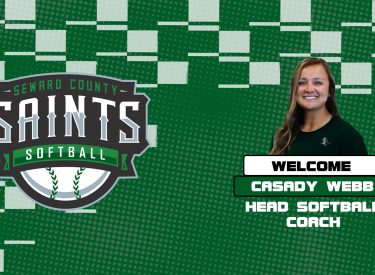 LIBERAL, Kan. – Seward County Community College athletics is excited to announce Cassady Webb as the next head coach for the softball program. Webb, a native of Davis Oklahoma, served as an assistant coach for Seminole State (NJCAA Region II) for the last two seasons in Seminole, Oklahoma. At Seminole State, Webb helped the Trojans to a fifth-place finish at the NJCAA national tournament, a Region II conference championship in 2021, and number one ranking during the 2020 season. Webb has also been a staff member at collegiate softball prospect camps for the last six years.
"I am beyond excited to begin my journey at Seward County Community College," Webb stated. "From the moment I stepped on campus, everyone has been so welcoming and helpful. I am eager to get to work and so thankful for the opportunity that the college is providing me."
Webb started her collegiate career at the University of North Texas. After one year, she went on to compete at Seminole State where she earned an Associate's Degree. She completed her playing career at the University of Central Oklahoma. Webb helped Central Oklahoma to a conference regular-season title, conference championship, regional championship, and a super-regional finalist in her final year with the program.
Athletic Director Dan Artamenko is excited to have Coach Webb join the staff.  "Coach Webb is going to be a great addition and her energy and desire to be great is going to be perfect to work with.  Throughout the hiring process, the question was asked how do we get Seward back to the National Tournament, and no doubt Coach Webb has what it takes."
Last season the Seward softball program had a 17-17 overall record and finished third in the Jayhawk West with a 16-11 conference record. The Saints had one first-team all-conference member and four second-team all-conference members. With a great base, the Saints will look to build on their success with the new leadership of Coach Webb.
For more information about Seward County Softball or Seward County Athletics, contact the athletic department at 620-417-1550.