Weather Aids Fall Harvest
KSCB News - October 5, 2010 12:00 am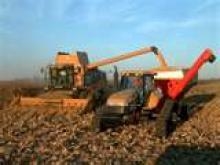 WICHITA, Kan. (AP) – Kansas farmers are making good progress in
getting fall crops out of the field thanks to excellent harvest
weather. But those same dry conditions are causing some wheat
growers to delay planting until moisture conditions improve.
Kansas Agricultural Statistics Service reported Monday the corn
harvest is two weeks ahead of normal, with 69 percent of the crop
harvested by the weekend. About 24 percent of the sorghum has also
been cut along with 19 percent of the soybeans.
Meanwhile, wheat planting is lagging behind normal with just 45
percent planted. That was up sharply from just 21 percent a week
earlier, but well behind the five-year average of 53 percent
planted by the start of October.