'We had three weeks left': Stepping Stone Shelter push to escape financial crisis
Calen Moore - October 6, 2023 4:51 pm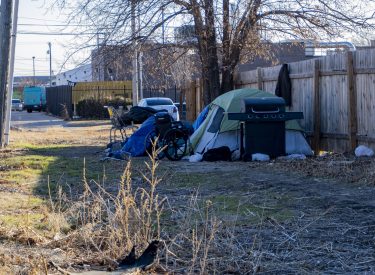 After not receiving an anticipated grant from the government, a homeless shelter in southwest Kansas finds itself in a financial crisis. After moving locations, and changing directors and board members, the only long-term shelter in the area seeks help from the community to stabilize and stay open and running. 
LIBERAL, Kansas – Employees at the Stepping Stone Shelter comb the rooms upstairs of their facility, turning off unnecessary lights, and picking up items to keep the place clean for their 18 residents. They know they can not afford to take in any more people.
Stepping Stone Shelter, the only homeless shelter in Liberal, reached out to the community late last month for assistance because they did not receive enough funding this year. Ty Lewick, Director of the Liberal Housing Authority, and board member for Stepping Stone, knew they would not last long.
"Without any assistance, we knew we had about three weeks left before we would have had to close our doors," Lewick said. 
The grant the shelter counted on was the Emergency Solutions Grant from the Kansas Housing Resources Corporation. This competitive grant is given to service providers who assist Kansans with homelessness. The grant has been denied before in the past, most recently in 2021. But this was the grant they were relying on. 
As it stands, 75 to 80 percent of the funds came from grants, a small portion came from large corporations, and an even smaller amount came from donations from the community. The shelter wants to flip this, being less reliant on grants and more on fundraising and private donations. 
"The community is who we serve, and most of our funds should come through that, and the grants should be used for improvements and emergencies, so we have been trying to correct that," Lewick said. 
After changing locations, directors, and board members, the shelter has been in disarray trying to update its new facility, flip its funding, and take care of its residents.
Lewick walked into the kitchen and pointed at a large stove the shelter could not use because they did not have the proper fire suppression system, because the original kitchen was an office kitchen. Currently, the shelter is still serving all of its meals with crockpots and roasters.
So how did the shelter end up with an unfinished kitchen, a lack of funds, and in such a precarious position? 
A Year of Changes
The shelter has seen a lot of changes in the last year that have contributed to the financial struggles. For years it was located on Washington Ave as an old house converted into a shelter. After receiving extra COVID funds, the shelter took advantage of this opportunity to move to a larger location near downtown. The only problem is it was a commercial space that needed to be renovated to a housing facility. 
"We had to put in a sprinkler system, fix the broken air conditioning, convert the bathrooms into residential bathrooms with proper sinks and showers, it was a lot of renovations," Lewick said.
Unexpected expenses started to pile up, and the broken air conditioning inflated the utility costs, cutting into the budget that was set to fortify the new building at 300 Lincoln Ave. Lewick had said a lot of overrun costs were not planned for and ate away at the operating budget. 
Lewick came on as the board president earlier this year after the location move. The previous director, Bambi Parker, left in the spring, leaving Lori Plante, formerly a case manager for the shelter, to step up as the new director. 
Plante along with case manager Erin Burton, have had to pay for things out of pocket, like driver's licenses, birth certificates, and any other forms of ID. 
"The first step when they come to us is to get them set up with proper IDs so they can apply for jobs and immediately start trying to get them on a certain path back on their feet," Plante said.
Plante explained the different ways the shelter provides services in the community. Residents come in and are allowed a 90 day stay, with extensions allowed if they are taking adequate steps to access social services, employment, and longer-term housing. Residents are expected to be searching for work during business hours. The shelter is also a reliable place for food, acting as a soup kitchen serving meals. They also act as a place for other needs like winter clothes. 
Homelessness often is overlooked in rural areas because compared to metro populations, homelessness is smaller, and hidden in some cases. Most will house-hop, stay temporarily with friends, or find abandoned places to stay without permanent shelter.
The Kansas Housing Resource Corporation estimates that 2,209 Kansans experience homelessness every day. With income-based housing filling up in Liberal, the shelter is becoming even more vital as housing continues to be the main issue Liberal faces. 
"It's not always a success story, but sometimes it is, and for me, I really care for them, I probably get too involved," Plante said.    
Nowhere To Go, No Purpose
Stepping Stone Shelter opened in 1991, and has remained a staple in the community for housing insecurities, and lack of food. 
It represents a place of a fresh start for someone like Chassy Allen, who stayed at the shelter for a couple of months in 2005, and it reshaped her life.
Allen leaned back in her seat relaxed, tired mostly, after working a late shift at Walmart, and getting ready for a meeting at her second job at the hospital. She is unphased by the weariness, her life has been mostly defined by controlling the chaos.  
Allen moved to Liberal from nearby Hugoton after she and her mother were experiencing family tension. Allen tried looking for work but there was one problem, she was eight months pregnant.  
"I had got pregnant, and I didn't have a lot of help, and I had to stop working because the pregnancy was complicated, so we really didn't want to burden family financially, and then we found the shelter," Allen said. 
The baby would eventually be born, Javon Allen, while Allen was living at Stepping Stone. The shelter staff remained in Javon's life into his adolescence, nicknamed "the shelter baby." 
"When you have nowhere to go, you feel like you have no purpose, you need that new start," Allen said. 
A new start is what the shelter was for Allen, she eventually got hired at Walmart shortly after her pregnancy, and worked there ever since, raising her two sons. This year, her oldest son, the "shelter baby" graduated high school. Simultaneously, Allen graduated from Seward County Community College as a respiratory therapist. 
"I decided to go back to school a few years ago, my grandmother died of respiratory complications, my son has asthma, it just felt like something I was being drawn to," Allen said. Of course, she asked her kids first, and they supported their mother. 
Allen hopes to see the shelter bounce back, it's a place that she holds in high regard. 
"The shelter is an important place, it needs help, and it makes this community better, I wish people weren't so judgemental of the residents there, or the shelter itself, it does a lot for the community," Allen said. 
The Path Forward
Stepping Stone has partnered with charities in the area to help them in the short term. They are receiving aid from the Liberal Area Families Coalition, Catholic Charities, and the Ministerial Alliance. 
The city commission stepped in and authorized $50,000 in operation expenses. However, city manager Rusty Varnado said the city will administer how this money is spent. 
"A misconception is we are just handing them a blank check, we are not, we will oversee how the money is spent, make sure everything is valid and done properly," Varnado said. 
The city's financial department will work closely with the shelter to make it more sustainable in the future. SCCC has agreed to train director Plante and case manager Burton in grant writing and finances for free to prevent this situation again in the future. 
"Nothing enrages me more than hungry Americans and homeless children, our job is to provide a safe and sustainable place for them," Varnado said. 
Stepping Stone is still seeking donations from the community both monetary and supplies like personal hygiene items and cleaning supplies. The shelter will be at the Liberal High School homecoming game tonight where there will be a raffle, half of the money will go directly to the shelter. Their social media pages are being updated with new events coming up and donation and volunteering opportunities.