Wayward Satellite Could Affect Local Cable TV Programming
KSCB News - May 21, 2010 12:00 am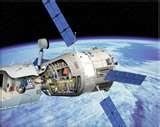 A TV communications satellite is drifting out of control thousands of miles from the Earth and could interfere with local cable programming including PTCI Digital TV as soon as Sunday, May 23.
Communication company Intelsat lost control of the Galaxy 15 satellite on April 5, possibly because the satellit s systems were knocked out by a solar storm. Intelsat cannot remotely steer the satellite to remain in its orbit so Galaxy 15 is creeping toward the adjacent path of another TV communications satellite (AMC-11) that serves U.S. cable companies. There is no danger the satellites will collide, but they do operate on the same frequency so if Galaxy 15 floats close to AMC-11, it could interrupt signals to the AMC-11 satellite.
The AMC-11 satellite is most at risk from May 23 to June 7, with the peak risk period being May 31 through June 1, according to AMC-11 owner SES World Skies.
According to Ron Strecker, CEO of PTCI, PTCI is in the same boat as most US cable TV providers. The situation with the Intelsat satellite is out of our control and there is a chance that PTCI Digital TV customers could experience some reception problems
PTCI Digital TV network that could be affected include, MTV, Nickelodeon, VH-1, Comedy Central, TV Land, CMT, Spike, Discovery Channel, Discovery Health, TLC, Animal Planet, Travel Channel, A&E, History Channel, Biography Channel, HGTV, Food Network, DIY, FLN, GAC, G4, Golf, Versus and possibly more.