Water Technology Field Days Scheduled in Liberal
Steven Rains - August 28, 2019 2:52 pm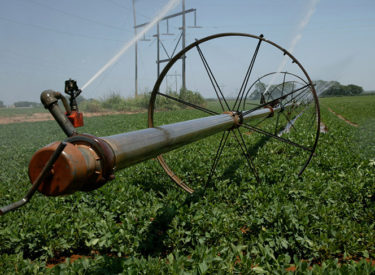 Lateral move (side roll, wheel line) irrigation, Wheel Line irrigation August 9 - Chickasha, OK Peanuts being watered from creek water source
Water Technology Field Days are designed for producers to see how the newest research and technology is being applied in real-life settings in different areas of the state and help producers make every drop of water count. To demonstrate the latest in crop irrigation technology, farmers in numerous counties teamed up with the Kansas Water Office to present Water Technology Field Days in several locations throughout August and September.
The remaining field day dates and locations include:
   * Sept.  4 – Goodland, KS – Northwest KS Tech College Farms (1298 E. 8th St.) – 1:30 p.m., MT
   * Sept.  5 – Garden City, KS – The GCC-Roth Family, T&O, Harshberger Farms (417 Lake Ave) -10:30 a.m.
   * Sept.  5 – Liberal, KS – Hatcher Land & Cattle Farm (Comfort Suites) – 5 p.m.
   * Sept. 10 – Troy, KS – Loess Hills Water Quality Farm (Clary Community Building) – 9 a.m.