Warden to Newman and Feldhausen to McPherson
Brock Kappelmann - November 13, 2020 7:17 am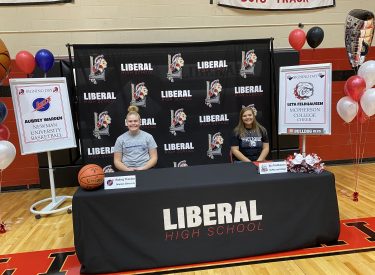 Two Liberal High School student athletes signed Thursday afternoon in the Big House.  Aubrey Warden signed to play basketball at Newman University in Wichita.  Leta Feldhausen signed to cheer at McPherson College.
Warden averaged eight points and six rebounds a game as a junior for 23-0 Liberal in 2020.  She averaged six points and five rebounds per game as a sophomore and two points and two rebounds per game as a freshman.  Warden was a first team all WAC player in 2020.  She has helped Liberal go 23-0 in 2020, 22-1 in 2019, and 23-2 in 2018.  She has played at state all three years.
Feldhausen is a key base for Liberal High School's cheer team which finished fifth at state in 2019.  She is a two year varsity team member.  During that time, LHS went to state twice and placed in the top five in 6A out of 23 teams.  She was also on a team that won Top Band Chant a the University of Oklahoma and Overall Top Team at NCA Emporia.