Ward and Paul Lead Saints All-Conference Selections
Joe Denoyer - May 15, 2018 10:09 am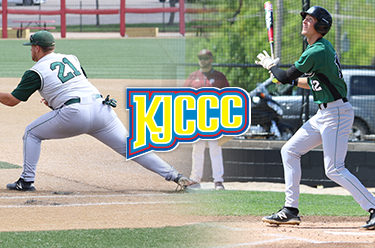 The Jayhawk Conference has released the All-Conference baseball teams for the 2018 season and the Seward County Saints have seven players named to the team.
Leading the way was redshirt-sophomore Dylan Paul, who was named 1st Team All-Conference as Utility. Paul split his time between right field, first base and pitching, but made his presence felt at the plate.  He was third in the in the KJCCC in batting average during conference games, hitting .458 in the 32 games played.  He also led the team with 14 home runs, while driving in 62 runs.
Joining Paul on the 1st Team was freshman first baseman Cayde Ward.  Ward led the team in batting average, hitting .427 on the season, good for fourth in the conference. He came on strong at the end of the year, hitting seven of his 11 home runs over the final month of the season, helping the Saints win 12 of their final 18 gams. Ward also hit the third most doubles in the conference (25), while driving in 52 runs.
Liberal native Cole Evans was named 2nd Team All-Conference as a pitcher, earning a 7-2 record on the season, including one complete game, while picking up two saves. Evans led the Saints in strikeouts, putting down 73 batters on the season, good for 10.21 strikeouts per nine innings pitched.
The Saints had four players named to the Honorable Mention All-Conference team.  Sophomore second baseman Cole Bergdall secured the right side of the infield.  At the plate, he was second on the team in runs scored, crossing the plate 53 times on the season, while also driving in 42 runs.
Freshman third baseman Benny Ayala joined Bergdall on the Honorable Mention team. It became a regular occurrence to see "Benny Bombs" during the season, as Ayala was second on the team with 13 home runs with nine coming in conference play, driving in 39 runs in the process.
Catcher Joseph Kuhn put up big numbers behind the plate to end the season en route to an Honorable Mention All-Conference selection for the Saints.  Despite playing in only 38 games, Kuhn was third on the team in home runs with 12, hitting six dingers over the last month of the season. He hit .408 on the year, with 11 doubles and 37 RBI.
Pitcher Tanner King was the final Saint to be named to the Honorable Mention All-Conference team. King's nine wins are the most for a freshman since 2004. He was tied for third in the Jayhawk West  in wins, trailing only Josh Hendrickson of Barton and Drake Norton of Butler (10 wins). He pitched 82.0 innings on the season with four complete games, while striking out 63 batters.