Walters State Halts Seward's Upset Bid
KSCB News - March 18, 2015 6:28 am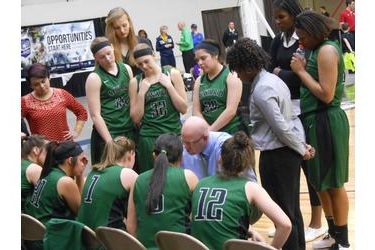 The plan worked. Seward packed in a zone defense to make Walters State shoot over the top of it. Walters, a bruising defensive oriented team struggled mightily much of the first half. But the month of March gave a hint to us again as to why she is so maddingly unpredictable. Seward expected to use their outside shooting as a strength. Instead Seward labored to a 3-17 three point shooting game and lost 53-47 Tuesday night in the NJCAA's rond of 16 at Salina's Bicentennial Center. Seward was 16-58 from the field for 28 percent.
The Lady Saints put the clamps on the #6 Lady Senators early. Walters State, who hasn't lost a game since November 27, did not score until the 9:50 mark of the first half as Seward claimed an early 7-0 lead. The Lady Saints St Patrick's Day was going well early in the game as they led 20-11 and led 21-16 at halftime. But Walters rallied leading by as many as six twice at 37-31 and 47-41. But Seward's shots stubbornly continued to miss the target in the spacious Bicentennial Center. Kyndal Davis had 10 points and 11 rebounds in the loss as the Lady Saints finish 28-6.
After the game ended and Seward supporters aimed to pick up the Lady Saints, the realization set in on what just occurred. A team that lost their point guard at semester and lost their best player Tamara Seda to injury in late January,, was wrapping up their season in Salina. They finished at the NJCAA's grandest event just like Ortega, Talbert, Wynn, Thiel, Pegram, Cunningham, and many other greats before them. At that fact may make a frustrating loss fizzle away more quickly than usual.