Walks and Errors Doom Bee Jays in Dodge City
Brock Kappelmann - July 2, 2018 6:49 am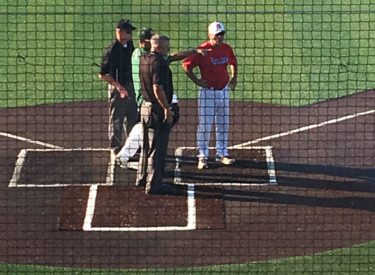 The Liberal Bee Jays struggled to a 10-5 loss Sunday night at Dodge City's Cavalier Field.  The Bee Jays committed four errors and walked 11 hitters in the loss.  Liberal has made 11 errors in the past two games.  The BJ pitchers have walked 20 in their two games at Dodge City.
Liberal scored a run in the first thanks to a pair of Dodge City errors.  The Bee Jays took a 2-0 lead as Dane Simon singled, stole two bases, and scored on a Brock Burton single.  The BJ defense fell apart behind starter Brett Mathews in the fourth.  The Bee Jays committed three errors after the first two hitters came up to bat.  Mathews did not make it out of the inning allowing six but only one was earned.  The A's added a run in the fifth.  Sean Arnold tripled to right to lead off the sixth and he scored on a Justin Marino ground out to short.  Dane Simon tripled in the seventh and scored on a Chase Hacker sac fly to make it 7-4.  But after walking the bases loaded in the bottom of the seventh, the Bj's allowed a two RBI single to make it 10-4 after the first run in the inning scored on a wild pitch.  Daniel Abiles grounded out to score another run in the eighth.
Liberal falls to 15-9 overall and 13-8 in the Jayhawk.  Dodge City is 10-8 overall and 8-8 in the Jayhawk.  The same two teams meet Wednesday night at 7 at Brent Gould Field for the 4th of July Game with the Dugout Show at 6:45 on 1270 and kscbnews.net.  Pizza Hut and the Community Bank are the buyout sponsors.  The fireworks show will follow the game.  First Southern Baptist Church will provide a free picnic at 2:30.