Wagenseller 2nd Team All WAC After Rainy Event in Dodge City
Brock Kappelmann - October 5, 2022 6:28 am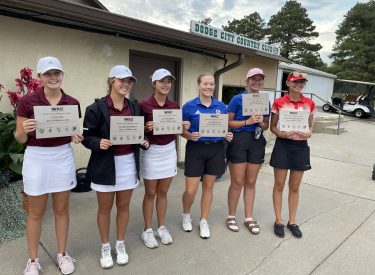 Bert Luallen
The regular 2022 season for the LHS Lady Redskin Golf Team came to an end Tuesday on a rainy afternoon at Dodge City Country Club with LHS finishing 4th in the final WAC Tournament. With Tuesday's results, the Lady Redskins wrapped up a 4th-place finish in the WAC.
Ashlynn Wagenseller continued to pace the Lady Redskins with a score of 103, finishing 12th individually in Tuesday's event. At the end of the tournament, Wagenseller was named Second-Team All-WAC.
The Lady Redskins will compete in the KSHSAA 6A Regional Tournament next Monday at the Golf Course at Southwind in Garden City. The other schools slated to compete at this Regional Tournament include: Garden City, Derby, Dodge City, Wichita-East, Wichita Haysville-Campus, Wichita-Heights, Wichita-North, Wichita-Northwest, Wichita-South, Wichita-Southeast, and Wichita-West.
TUESDAY'S TEAM RESULTS:
1.  Hays – 323
2.  Garden City – 364
3.  Dodge City – 367
4.  Liberal – 460
5.  Great Bend – 463
FINAL WAC TEAM STANDINGS:
1.  Hays
2.  Dodge City
3.  Garden City
4.  Liberal
5.  Great Bend
INDIVIDUAL RESULTS:
1.  Katie Dinkel (Hays) – 74 [2022 WAC Player of the Year]
2.  Ryann Warren (Garden City) – 75
3.  Jaycee Oakley (Hays) – 78
4.  Lily Garrison (Hays) – 83
5.  Jerika Lopez (Garden City) – 85
6.  Ashlyn Armstrong (Dodge City) – 86
7.  Claire Humphrey (Hays) – 88
8.  Abbie Norris (Hays) – 89
9.  Evyn Cox (Hays) – 91
10. Payton Dunn (Dodge City) – 100
      Jacya Vargas (Garden City) – 100
12.  Ashlynn Wagenseller (Liberal) – 103
LHS RESULTS:
Ashlynn Wagenseller – 103
Bret Lyon – 115
Nubia Rodriguez – 119
Jackie Cortes – 123
Daniyelle Mendoza – 137
ALL-WAC:
   First Team:
      Katie Dinkel (Hays) – Sr    [2022 WAC Player of the Year]
      Ryann Warren (Garden City) – Sr
      Ashlyn Armstrong (Dodge City) – Sr
      Jaycee Oakley (Hays) – So
      Abbie Norris (Hays) – Jr
      Jerika Lopez (Garden City) – Jr
   Second Team:
      Evyn Cox (Hays) – Jr
      Claire Humphrey (Hays) – Sr
      Lily Garrison (Hays) – Jr
      Payton Dunn (Dodge City) – Jr
      Riley Kippes (Dodge City) – Jr
      Ashlynn Wagenseller (Liberal) – Sr
   Coach of the Year:
      Mark Watts (Hays)