Volden Hired to Head Esports Program at SCCC
Joe Denoyer - February 1, 2023 6:38 pm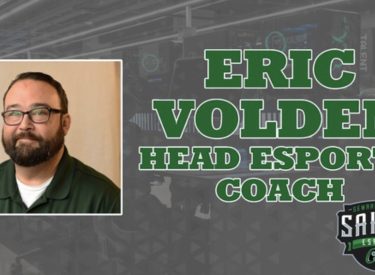 LIBERAL, Kan. – The Seward County Athletic Department is excited to announce Eric Volden as the inaugural Head Esports Coach for the Saints. Volden has served as the Director of Admission at Seward County since 2019 and was the Admissions and Recruiting Coordinator from 2017-2019.
With the news that Eric Volden has been hired as e-Sports coach, Seward County Community College has leveled up in the process of adding the popular activity to its lineup of competitive athletics opportunities.
"Eric is ideal for this position, with his background in competition, sports commentator work, and even game design," said SCCC President Brad Bennett. "And of course, he also has plenty of experience in recruiting as our director of admissions for the past five years."
Volden, a Liberal native, grew up alongside the gaming industry, starting as a kid on the Atari and, as an adult, turning his hobby into a career. In 2017, he joined the SCCC team as Director of Admissions, and eSports moved to the back burner. Now he will be coaching at the collegiate level.
"I'm super excited," he said. "I have been playing, analyzing games, players, and strategies, throughout my life, and I'm really excited to build this program from the ground up."
Following approval of the addition of e-Sports by the SCCC Board of Trustees at the December 2022 meeting, Saints athletics has started to assemble the program.
"We are still in the beginning stages, but we are very pleased with how it's shaping up, and we anticipate starting competition in the Fall 2023 semester," said Bennett.
The Saints Arena has been selected and is being renovated in the Industrial Technology complex at 2215 N. Kansas Ave.
"We're getting the facilities, equipment, and layout set up so that it will be an ideal gamer space … and then we will start our recruiting process, which is very familiar to me," Volden said. "I see an overwhelming response coming from our area, once it gets off the ground."
Volden added that stereotypes of gamers are mainly outdated.
"People tend to get a picture in their mind of who video gamers are, but it's not that. It's very inclusive. These students tend to be very meticulous, academically minded and detail oriented, with reflexes like you would not believe."
E-sports operates within the standard Jayhawk League infrastructure, with the additional competition with NAIA schools. Typically, a competition team is comprised of five players and two alternates, though the structure varies according to the games selected for league competition. Scholarships and future opportunities provide the same long-term benefit that traditional sports promise and Volden noted that leagues worldwide employ players.
"This is absolutely something that can lead to transfer opportunities and careers," he said. "For SCCC, it's also going to be a game-changer in terms of recruiting. It's got to be one of the coolest things for a kid graduating from high school — you can get help to pay for college, and you're going to be playing video games."
Seward County Esports will start in the Fall of 2023 and start their competition season. The Esports games involved in the NJCAA are Fifa 2021, Hearthstone, Madden 21, Overwatch, Rainbow Six, Valorant, and Super Smash Bros. Ultimate. Volden will look to build the rosters for specific games and has excellent connections in the area school districts with his time in admissions.
The Esports arena is already under construction, and we will have Volden take charge of what is best for the program in the space provided.