Vince and Duc Place Third at State
KSCB News - May 15, 2011 10:35 am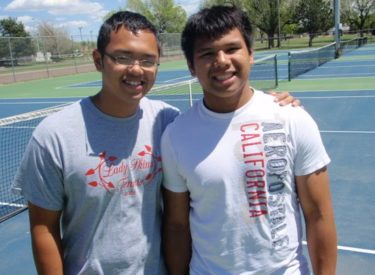 The Liberal High School tennis doubles team of Duc Nguyen and Vince Nguyen proved to the State that they were one of the best teams in all divisions finishing 3rd Place at the 5A State Tennis Tournament in McPherson on Saturday. Two memorable moments of the tournament included Liberal upsetting the #2-seed team from Ark City and losing a tie-breaker set to the eventual championship team from McPherson.
On Friday, Liberal began their quest for a State medal defeating Schmidt/Krug from Topeka West 6-3, 6-2. This set them up for a battle with the #2-seed team from Ark City, Rohr/Vargas.
Hitting on all cylinders, the Nguyens showed all spectators that their "A" game could defeat any team in the State. Liberal knocked off Ark City in straight sets 6-3, 7-6 (7-1) to advance to the quarter finals.
Battling strong winds and arm cramps, Liberal lost the first set to the team of Stukel/Mulveny from St. Thomas Aquinas 2-6. The Nguyens fought back to win the second set 7-6 (7-3 in a tie breaker). In a stressful super tie breaker, Liberal defeated St. Thomas Aquinas 11-9 to advance to the semi finals on Saturday.
In the semi finals, Liberal squared off against Regional Champions Horton/Pyle from McPherson. Before the match began, McPherson's coach, Doug Gayer, made the comment that these two teams were so evenly matched that a coin toss could easily have predicted a winner.
The first set proved to live up to this prediction. In an exciting match with hard serves and impressive slams, these teams battled back and forth with the set in a tie at 6 games all. McPherson won the tie breaker 7-5. Liberal's "A" game disappeared in the second set, and McPherson won this set 6-0 on their way to winning the championship match against Davids/Davids from Topeka West.
The Nguyens found themselves battling Taylor and Calgren from Newton for 3rd Place. With their "A" game still in hibernation, Liberal dropped the first set 1-6. Then as if someone pushed a reset button on their "A" game, Liberal dominated every point winning the next two sets 6-1 and 6-0 to win the bronze medal.
Their play was impressive, but the way Vince and Duc represented Liberal High School, the city of Liberal, and their families was even more impressive. These two received many compliments from admiring fans. One local newspaper man approached this team and told them they were by far the most sportsman-like team he witnessed in two days. Several parents and coaches shared this sentiment. The most successful doubles team in LHS history finished their senior year with a record of 28-6 and a 3rd place medal at State. Bret Irby