Versatile Seward Spikers Sign
KSCB News - April 15, 2015 1:57 pm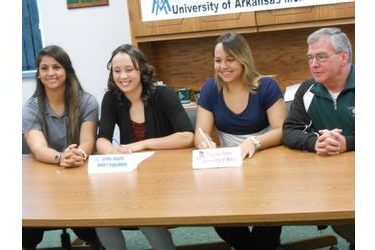 Two of the most versatile volleyball players in the KJCCC signed on Wedneday. Seward's Carolina Gasparini and Thayna Silva both signed to four year schools Wednesday morning in the All American Room at SCCC/ATS. Gasparini signs at NCAA Divsiion 2 Arkansas-Monticello and Silva signed at NCAA Division 2 Mary University in Bismarck, ND. The two Brazilian natives were the KJCCC's only players in the top five in kills and top 10 in digs.
Carolina Gasparini was a 1st Team All-Jayhawk West and All-Region VI performer for the Lady Saints, repeating the honor for the second straight season. Gasparini finished the year ranked 4th in the Jayhawk West with 2.81 kills per set and ranked 10th in the league, and led all hitters with 3.65 digs per set on the year. She was Jayhawk West Freshman of the Year in 2013.
Thayna Silva earned 2nd Team All-Jayhawk West and All-Region VI honors for her sophomore campaign. Silva had nearly identical numbers to Gasparini, averaging 2.80 kills and 3.65 digs per set on the season which ranked 5th and 11th respectively in the Jayhawk West. Silva remained one of the top offensive weapons in the league and finished ranked in the top 5 in the league in kills per set on the season despite the fact that she played sparingly in the front row in Seward's final three matches of the year. Silva now leaves Seward County with All-Conference and All-Region honors in both her freshman and sophomore seasons.
Their interview airs during the Sportsguys between 7:37 and 9 Thursday on 1270 and kscbnews.net.