Verizon Brings 4G To The Liberal Area
KSCB News - June 20, 2013 1:21 pm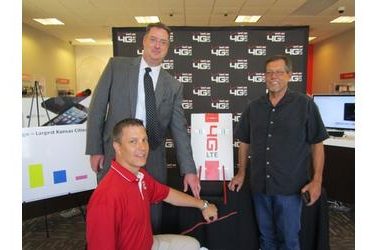 LIBERAL, Kan. —Today Mayor Dave Harrison joined Verizon Wireless to mark the importance of the expansion of 4G LTE wireless service in the state by "flipping the switch" to activate 4G LTE in Liberal.
The new market launch will provide customers in the Liberal area access to the Verizon Wireless 4G LTE network to locally surf the Web, post status updates and photos, share music, and download files at speeds up to 10 times faster than customers on 3G networks.
The significance of 4G LTE coming to Liberal isn't limited to southwestern Kansas – Liberal was the only remaining major market in the Kansas/Missouri Region yet to launch 4G LTE .
"The expansion of our 4G LTE network to Liberal demonstrates how thoroughly Verizon Wireless is covering smaller towns and rural areas in Kansas, Now, residents and those traveling through Kansas can experience the same high level of reliability and outstanding speeds throughout the state," said Brendan Fallis, president – Kansas/Missouri Region, Verizon Wireless.
Verizon Wireless currently covers more than 287 million people in 497 markets across the United States with the nation's largest 4G LTE network.