Veloso Does it All in Win at Independence
Brock Kappelmann - January 9, 2019 11:25 pm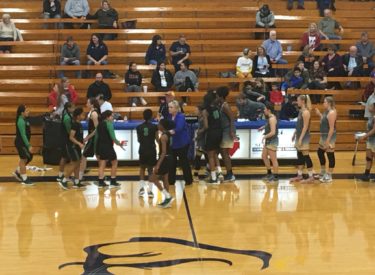 INDEPENDENCE, Kan. – The No. 11 Seward County women's basketball team won their seventh straight game Wednesday night led by Silvia Veloso's career-high 26-point outing, defeating the Independence Pirates 69-58.
The Lady Saints came out firing, hitting their first two shots with threes by Kalen Green and Silvia Veloso. The first quarter was owned by Green, scoring nine of Seward's 19 points. After Seward took an 11-3 lead over the first four minutes of the game, the Pirates stormed back, cutting it to three points. Seward ended the quarter strongly, finish with an 8-4 run to take a 19-12 lead into the second quarter.
The Pirates couldn't find a way to get through the Lady Saints defense, failing to hit a field goal for nearly eight minutes.  They finally ended their drought four minutes into the second quarter with a layup.  However, the Lady Saints used that dry spell to push their lead to double-digits, leading 27-14. Seward kept their distance the remainder of the quarter, taking a 35-23 at halftime.
Seward's lead increased to 17 as the Lady Saints opened the third quarter on a 7-0 run capped off with a Vonda Cuamba layup. Following the run, the Lady Saints struggled to find the rim, allowing the Pirates to cut the lead to single digits using a 12-0 run over a four-minute stretch. Veloso ended the run with a triple from the wing to put Seward back up by double-figures. The Pirates outscored the Lady Saints 15-12 in the third quarter, the lowest points scored in the third quarter by the Lady Saints all season.  But Seward still held a nine-point lead heading into the final quarter of play.
The Lady Saints lead grew back to double-digits as Seward held the Pirates scoreless through the first five minutes of the fourth quarter. Seward ended the game strong, preventing the Pirates to come back, defeating Independence 69-56.
Seward shot 45.1 percent (23-for-51) from the field and 31.6 percent (6-for-19) from behind the arc. The Lady Saints were solid from the charity stripe, making 17-of-24 (70.8%). Independence shot 31.7 percent (20-for-63) from the floor and 41.2 percent (7-for-17) from deep.
Silvia Veloso led all scorers with a career-high 26 points. Carla Covane finished with their third straight double-double, coming away with 13 points and 10 rebounds.
Seward will be back in action on Saturday (Jan. 12) when they host Neosho County at 6:00 p.m. in the Greenhouse. Conestoga is the sponsor and free tickets are available at Conestoga and both Liberal Hutch's locations.
https://soundcloud.com/user-538336933/sets/sc-women-at-indy-2019-0109