USDA Celebrates National Homeownership Month
KSCB News - June 23, 2015 10:10 am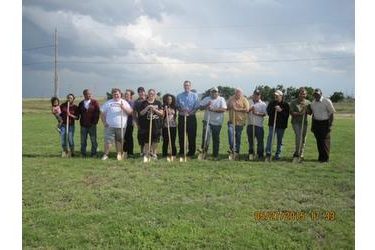 Topeka, Kan., June 5, 2015 – USDA Rural Development is celebrating National Homeownership Month by highlighting USDA's ongoing role to help residents in small towns and cities purchase homes in rural areas. Since 2011, USDA Rural Development in Kansas has assisted more than 7,500 rural Kansans purchase a home.
"USDA's Housing Program helps thousands of rural Kansans each year achieve the dream of homeownership," said USDA Rural Development Single Family Housing Director Kent Colwell.
"Homeownership provides a strong foundation that helps people build household wealth, start a business, fund education through home equity and climb ladders of economic opportunity."
This year USDA is highlighting the 50th Anniversary of USDA's Mutual Self-Help Housing program, and celebrating the 50,000 home built through it.
The Mutual Self-Help program provides grants to help organizations carry out housing construction projects in rural areas. These organizations supervise groups of very-low- and low-income individuals and families as they construct their own homes. The group members provide most of the construction labor on each other's homes and get technical assistance from the organization overseeing the project.
For the past nine years, USDA Rural Development has partnered with the city of Liberal's Mutual Self-Help program to construct 46 homes. The city has four additional self-help homes under construction, which are scheduled to be completed in August 2015. Last week the city held a groundbreaking event for an additional four self-help homes. To continue the self-help program, the city received USDA approval for funding to construct another 18 homes that are planned to start later this year.
"The Liberal Self-Help Housing Program has assisted several families build quality, affordable housing that they wouldn't have been able to do otherwise," said Liberal's Housing Director Karen LaFreniere. "The families work well together, they create lasting friendships that you normally wouldn't have with neighbors."
The city of Liberal's Housing Department coordinates the Liberal Self-Help program by assisting homeowners with finding vacant lots, developing house plans, working with contractors, coordinating materials, and training participants on construction skills. Self-Help participants provide 65 percent of the labor to construct their homes. They assist with installing flooring, windows, doors, siding and other components. Families put in more than 1,000 hours to construct their home, and lower their home cost by as much as 30 percent.
USDA, through its Rural Development mission area, administers and manages housing, business and community infrastructure programs through a national network of state and local offices. Rural Development has an active portfolio of more than $210.5 billion in loans and loan guarantees. These programs are designed to improve the economic stability of rural communities, businesses, residents, farmers and ranchers and improve the quality of life in rural America.
Further information on programs available through USDA Rural Development is available by calling (785) 271-2700, or by visiting the agency's website at http://www.rd.usda.gov/ks.