USD 480 Announces 2017 Teacher of the Year
Joe Denoyer - March 24, 2017 4:07 pm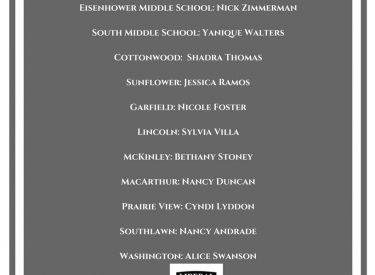 USD 480 is pleased to announce that a total of over 270 Teacher of the Year nominations were received for 79 different teachers this spring!
From the 79 teachers nominated, the Selection Committee chose individual building winners. From those, the elementary and secondary district nominees were chosen. The district winners will be eligible to compete in the 2018 Kansas Teacher of the Year contest. Winners were:
Liberal High School – Tasha Miller
Eisenhower Middle School – Nick Zimmerman
South Middle School – Yanique Walters
Cottonwood – Shadra Thomas
Sunflower – Jessica Ramos
Garfield – Nicole Foster
Lincoln – Sylvia Villa
McKinley – Bethany Stoney
MacArthur – Nancy Duncan
Praireview – Cyndi Lyddon
Southlawn – Nancy Andrade
Washington – Alice Swanson
ELEMETARY DISTRICT WINNER
Alice Swanson
SECONDARY DISTRICT WINNER
Yanique Walters
These individuals will be recognized at an upcoming BOE meeting.