USCIS to Welcome 162 New US Citizens at Wichita State Ceremony
Joe Denoyer - February 23, 2022 3:21 pm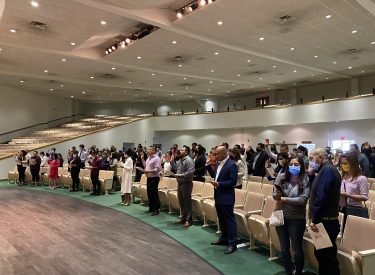 WICHITA, Kan. – U.S. Citizenship and Immigration Services and the U.S. District Court of Kansas will welcome 162 people as new U.S. citizens Friday February 25th at 11:00an at Wichita State University. Magistrate Judge Gwynne Birzer will preside, and a clerk of the court will administer the Oath of Allegiance.
The citizenship candidates originate from 37 countries: Bangladesh, Burma, Cambodia, Canada, China, Congo (Kinshasa), Cuba, Dominican Republic, Egypt, El Salvador, Eritrea, Ethiopia, Fiji, Guatemala, Haiti, Iran, Iraq, Israel, Kenya, Laos, Lebanon, Mexico, Nigeria, North Macedonia, Pakistan, Philippines, Portugal, Saudi Arabia, Somalia, Sudan, Syria, Thailand, Uganda, Ukraine, United Kingdom, Venezuela and Vietnam.
The citizenship candidates live in Andover, Bel Aire, Coffeyville, Colby, Copeland, Derby, Dodge City, Garden City, Goddard, Great Bend, Hays, Haysville, Hesston, Hoisington, Holcomb, Hugoton, Hutchinson, Liberal, Lindsborg, McConnell Air Force Base, McPherson, Modoc, Norton, Pratt, Preston, Rose Hill, Salina, Satanta, Ulysses, Valley Center, WaKeeney, Wichita and Winfield, Kansas.
Hamilton Middle School color guard will open the ceremony. The League of Women Voters will be in the lobby if new citizens want to register to vote.
USCIS encourages new U.S. citizens and their families and friends to share their naturalization photos on social media using the hashtag #NewUSCitizen.
USCIS naturalized approximately 808,000 people in fiscal year 2021. Many of them applied using USCIS online tools. To file online, individuals must first create a USCIS online account.