USCIS to Welcome 148 New US Citizens at Wichita State University
Joe Denoyer - February 18, 2020 4:15 pm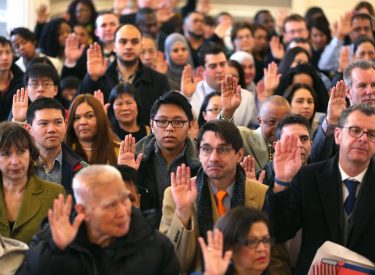 WICHITA, Kan. – U.S. Citizenship and Immigration Services will welcome 148 new U.S. citizens Friday at Wichita State University. U.S. District Court Judge J. Thomas Marten
will preside, and a clerk of the court will administer the Oath of Allegiance.
The citizenship candidates originate from 45 countries: Bangladesh, Brazil, Cambodia, Canada, China, Colombia, Congo (Kinshasa), Costa Rica, Cuba, Denmark, Dominican Republic, El Salvador, Eritrea, France, The Gambia, Ghana, Haiti, Honduras, Hong Kong, India, Iraq, Japan, Jordan, Kenya, Laos, Mexico, Morocco, New Zealand, Nicaragua, Nigeria, Norway, Pakistan, Peru, Philippines, Rwanda, Somalia, South Korea, Sudan, Tanzania, Thailand, Togo, Ukraine, United Kingdom, Venezuela and Vietnam.
The citizenship candidates live in Andover, Arkansas City, Augusta, Chanute, Cimarron, Copeland, Derby, Deerfield, Dodge City, El Dorado, Eureka, Garden City, Great Bend, Hutchinson, Liberal, Lyons, McPherson, Newton, Park City, Salina, and Wichita.
During fiscal year 2019, 834,000 people were naturalized at ceremonies throughout the country and around the world, an 11-year high.