UPDATE: Fire Near Moscow, Residents Allowed To Return Home
KSCB News - May 30, 2013 5:51 am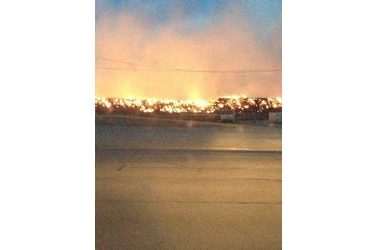 UPDATE: Residents of Moscow have been allowed to return home, after being evacuated overnight.
A fire has been burning since early Wednesday, and winds shifted overnight, leading to the precautionary evacuation. At about 3:30 a.m., A temporary shelter was set up at Hugoton High School, where Red Cross set up cots for people to sleep.
People were allowed to return home around 9 a.m.
—————————————————————————————————-
A large grass fire in southwest Kansas has spread to thousands of bales of corn stalks stored at a facility in the Stevens County town of Moscow.
The fire broke out late Tuesday and involved about 50,000 corn stalk bales by Wednesday.
Moscow Mayor Billy Bell told the station that a bioenergy company had planned to use the stalks to produce ethanol.
Bell says firefighters have contained the blaze, which investigators believe was intentionally set.
The mayor also says no injuries have been reported residents have been evacuated with a Red Cross Shelter set up at Hugoton High School.
Local farmers also have their irrigation systems on standby to help out if necessary.