UPDATE: Children Found:Three Liberal Kids Reported Missing:
KSCB News - May 22, 2013 7:11 am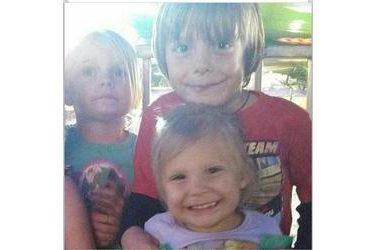 UPDATE: All three children have been found. They were found in Liberal walking by Weatherford, after a tip from a citizen. The children were tired and hungry, but were ok. The children have been turned over to SRS care. The KBI will handle the interviews with the children as to why they left their home. The investigation is ongoing.
Three Liberal children are reported missing this morning. The three children are siblings Damien age 7.Aurora 5, and Lyla 3. They live on 2nd Street Road in the Liberal area. Over 70 authorities from around the area, have been performing a search and rescue mission all night. All area first responders have been involved. Search dogs and a helicopter with infared capabilities has been brought in from Hays KS, as has the Kansas Highway Patrol and the KBI. The children were last seen in the living room of their home before being reported missing at 7:30pm. The 7 year old was last seen wearing black parachute pants, a gray t-shirt, and yellow rain boots. The 5 year old was wearing a red t-shirt and blue jean shorts, while the 3 year old had on a yellow tank top and blue shorts. If you have information on the location of the children, call local authorities immediately including the Liberal Police at 626-0150.