Unified Bowling Opens at Garden City
Brock Kappelmann - October 21, 2022 2:01 pm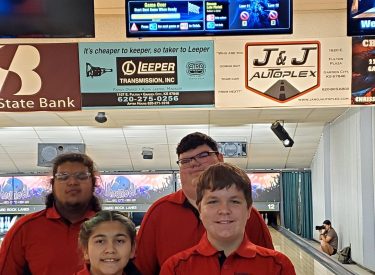 Andrew Potter
Liberal Unified Bowling completed its inaugural meet at Garden City,
finishing 6th overall out of 12 teams. After completing six baker games
Liberal finished with a 517 total pinfall. Reece Washburn picked up the
first ever spare in program history in the 4th frame. Being asked about
being the first ever bowler to pick up a spare Reece says "I hadn't really
thought about it. The pressure of it was not going to get to me." Aaliah
Osborn pick up the first ever strike in program history. On being the first
one to get a strike in program, Aaliah had to say, "its all about being
focus and not letting the pressure get to you." Overall Coach Potter says
"It was a great time seeing these Student-Athletes represent USD-480 and
making history. I saw improvement as the match went on and seeing the kids
make some adjustments on their own from things we've talked about at
practice." Next Thursday at 3pm at Billys Ayr Lanes is Liberal's next meet,
the only home match of the year.
After first game in program history.