Unemployment In Kansas Up
KSCB News - June 19, 2009 12:00 am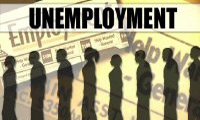 May was another bleak month for unemployment
in Kansas, with another increase in the jobless rate.
The state Department of Labor said the May unemployment rate
rose to 6.9 percent, up from a revised 6.2 percent in April.
The May rate compares with 4.1 percent for the same period a
year ago.
According to estimates, the Kansas economy has shed some 39,100
jobs over the past 12 months.
There was some bright news, with the construction sector adding 800
jobs. But state labor officials said most of those gains can be
attributed to seasonal work.
Government jobs increased over the year by 2,500 workers, with
gains attributed to outdoor maintenance and swimming pool employees
by local government.