Ulysses Holds Down Redskins in Opener
Brock Kappelmann - September 3, 2016 6:27 am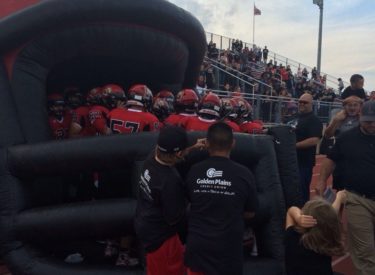 Ulysses won the football opener at Redskin Field 30-13 over Liberal.  The Tigers gained 352 yards while holding the Redskins to 184 yards.  Ulysses quarterback AB Romero rushed for 116 yards and two scores and toss a TD pass.
Liberal's Juan Rodriguez fumbled a hand off and was injured on the play with 10:07 to play in the first quarter.  AB Romero scored on a quarterback keep from 46 yards out on the next play.  Losing Rodriguez hampered the Redskin offense and their play calling the rest of the night.  A high snap by the Redskins gave Ulysses the ball on the LHS 10.  LHS forced a 4th and 5 but Romero flared a pass to Kaden Everett for a touchdown to make it 14-0 after the two point conversion.  Everett's 26 yard run with :37 second to go in the first quarter made it 20-0 after the missed PAT.  Jesse Alvarado lofted a touchdown pass to Ty Johnson for a 49 yard scored to make it 20-7 with :14 second remaining in the quarter.  Romero's 18 yard run at the 6:06 mark of the second quarter made it 28-7 Ulysses.  Andrew Nagel intercepted a Liberal pass with 5:46 to go in the half.  It was 28-7 UHS at halftime.  Ulysses went for it on fourth down on their own 25 and didn't get it.  Liberal would make the Tigers pay as Cesar Burciaga scored on a three yard bulge to give LHS the score to make it 28-13.  Liberal made a goal line stand on the next possession but with first down from inside the LHS one, Ulysses tackled Alvarado for a safety to make it 30-13.
Ulysses evens the overall series with Liberal at 14-14 and has won nine of the past 11 since resuming the series in 2004.  Liberal plays at Guymon Friday at 7 with Redskin Pre-game at 6 on 1270 and kscbnews.net.  Ulysses hosts 1-0 Hugoton.