U.S. Sen. Roger Marshall Endorses Gov. Jeff Colyer
Joe Denoyer - April 19, 2021 1:11 pm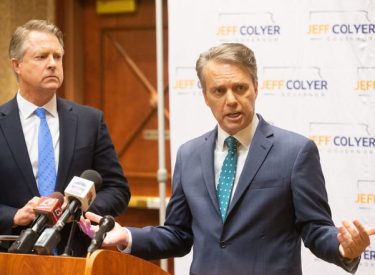 TOPEKA – Today, Governor Jeff Colyer, M.D. announces the formal launch of his campaign for Kansas Governor with a key endorsement from U.S. Senator Roger Marshall, M.D.
"Since announcing Mary Jean Eisenhower as our campaign treasurer, we've been meeting with Kansans from every corner of the state in order to build a campaign that will have the resources and momentum necessary to win in 2022." Gov. Jeff Colyer announced.
"Kansans have an opportunity to change course and be a leader for conservative, pro-family, and pro-constitution values. Right now, we have a government that opens borders and closes schools, that tries to keep people from celebrating Easter together but declares abortion clinics essential, and that says convicted felons should have access to vaccines before law-abiding citizens with life threatening medical conditions. This is not who we are."
Gov. Jeff Colyer continued: "We must get the Kansas economy back on track, eliminate unemployment fraud impacting ten of thousands of Kansans, and most importantly, we must have a Governor that respects the freedoms provided to citizens in The Constitution, that won't shutdown our way of life and impose never-ending restrictions on our small businesses similar to that of California and New York."
Sen. Roger Marshall endorsed Gov. Colyer, saying "If there's one thing that has become clear over the last year of the pandemic, it's that Laura Kelly needs to be defeated in 2022 so we can get the Kansas economy back on track, get our kids back in school, keep our churches open, and restore our Kansas values."
He continued, "I've had the privilege of calling Dr. Colyer a friend for 30 years, and I can tell you he is the exact same person today as he was when we met: A trustworthy, Kansas doctor whose 'yes' is his 'yes', and his 'no' is his 'no'. Having managed medical practices and businesses around the globe, he's no politician. As Governor, we don't have to guess how Dr. Colyer will lead Kansas – he's done it before and he left our state with a nearly $1 Billion surplus."
"Loyalty is in short supply these days and Jeff is the man we can count on to stay loyal to the traditional Kansas values we were raised on – I'm proud to endorse Jeff Colyer for Governor." Sen. Marshall concluded.
Gov. Colyer responded to Sen. Marshall's endorsement: "I am grateful to have the support of Senator Marshall. His early endorsement of my campaign is clear: I am the conservative candidate in the race that won't back down from a fight and is best positioned to take on liberal Laura Kelly in 2022."