U.S. Citizenship and Immigration Services and the U.S. District Court of Kansas will welcome 101 new U.S. citizens Friday
Joe Denoyer - April 13, 2021 8:01 am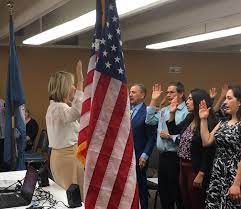 U.S. Citizenship and Immigration Services and the U.S. District Court of Kansas will welcome 101 new U.S. citizens Friday at Wichita State University. Senior United States District Judge J. Thomas Marten will preside, and a clerk of the court will administer the Oath of Allegiance.
The citizenship candidates originate from 31 countries: Australia, Burma, Congo (Kinshasa), Cuba, El Salvador, Eritrea, Ethiopia, Fiji, Guinea, Haiti, Honduras, India, Iran, Kenya, Laos, Lebanon, Malaysia, Mexico, Netherlands, Panama, Philippines, Portugal, Russia, Senegal, Somalia, Sri Lanka, Syria, Togo, Turkey, Ukraine and Vietnam.
The citizenship candidates live in Bel Aire, Chanute, Deerfield, Dodge City, Garden City, Greensburg, Goodland, Haysville, Hugoton, Hutchinson, Independence, Kismet, Liberal, McConnell Air Force Base, Newton, Parsons, Salina, Sedgwick, St. Francis, Ulysses and Wichita.