Tyrone Pushes for Playoffs
Brock Kappelmann - August 16, 2023 7:17 am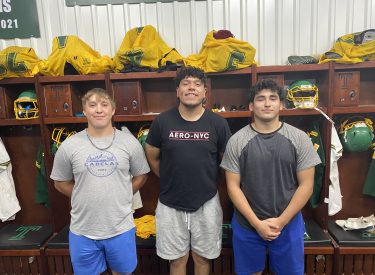 The Tyrone Bobcat football team is looking to get back into the playoffs.  After going 56-14 from 2016-2021, the Bobcats slipped back to 4-6 last year and barely missed the playoffs.  A heart breaking 44-42 loss to Buffalo indicative of how close the Cats were.  Payson Slater, a 2013 Tyrone graduate, enters his second year as head coach.  They have 23 out for football with five starters back on defense and four back on offense at the Class C school.
Some of the key Tyrone players are Sr. TE/DE Jeremiah Rosas, Jr. G/DL Wyatt Johnson, Sr. QB/S Juan Chavez, Jr. RB/LB Anthony Favela, Jr. RB/LB Angel Aguire, and So. TE/DE/G/LB Brenner Witt.
Tyrone is featured during the Sportsguys on Wednesday.
Schedule
September 1- at Turpin (102.7)
September 8- Balko-Forgan
September 15- at Beaver
September 22- Buffalo (102.7)
September 29- at Timberlake
October 6- Sharon-Mutual
October 12- at Medford
October 20- DCLA
October 27- at Boise City
November 3- at Waynoka