Tyrone Looks to Continue Recent Success
Brock Kappelmann - August 14, 2019 9:48 am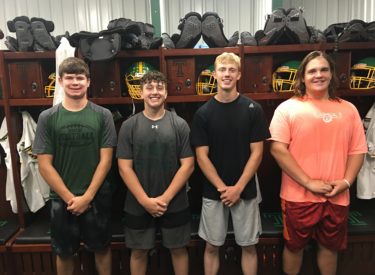 During the past three years, the Tyrone Bobcats are one of the best teams around.  The Bobcats are 30-5 the past three seasons including and 8-3 2018 campaign.  They lose another talented senior class but 16th year head coach Josh Bell has plenty of young talent including an ultra athletic group of eight sophomores.  Tyrone has 25 players out for football.
Some of the key Tyrone players are Sr. RB/DE Matt Clancy, Jr. OL/NG Koby Putnam a move in from Webb City, Missouri, Jr. WR/CB Braden Stevens, So. FB/LB Rylan Johnson,  Jr. Ethan Brown, sophomores Jackson Bell, Roberto Hernandez, and QB Kobe Williams.
Tyrone was featured during the Sportsguys on Wednesday morning.
Schedule
August 29- Hooker JV
September 6- at Turpin (102.7)
September 13- Beaver (102.7)
September 20- Bye
September 27- Balko
October 4- at Sharon Mutual
October 11- Buffalo
October 17- at Waynoka
October 25- at Boise City
November 1- Pond Creek Hunter
November 8- at Timberlake