Tyrone Fire Department Upgrades Response Units
KSCB News - February 9, 2013 9:34 pm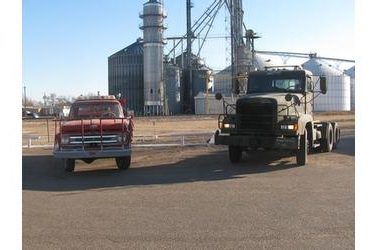 Tyrone Fire Unit #504 is being placed "out of service" after 50 years of service. The 1962 Ford F-350 brush truck has answered its fair share of calls to the residents of Tyrone and the surrounding areas. It is being placed on sealed bid after some usable apparatus's are removed. The truck was provided to the department by Texas County Soil Conservation District, it is the last of these types of trucks that were purchased to be removed from service.
Replacing 504 is a 2008 Freightliner 6×4 that was granted to the department from the Oklahoma Forestry Service. The '08 Freightliner semi will be transformed from a fifth wheel semi into a 2100 gallon brush tanker, meaning it will have some capability of fighting a grass fire yet be large enough to fill smaller units when terrain prohibits an offensive response. While the truck was received on grant, the cost in transforming the chassis in to a fire unit are costs that are all incurred by the department's budget.
The annual operating money received from county and state agencies typically allow the department to keep personal protective gear updated and maintenance on all other equipment up to date as well. Persons wishing to donate to help offset construction costs on the new Fire Unit are encouraged to do so; it is not only appreciated by the community but very much appreciated by the personnel that will fight fire off of the unit. The more funding available, the safer the operation of the truck will be. Interested parties can contact Chief Anthony Adams on how to donate or simply mail any donations to Tyrone Fire Department, PO Box 234, Attn: Fire Dept. Tyrone, OK 73951
Tyrone Firefighters answer on average around 10-20 fire calls in the district and an additional 20-40 calls to Mutual Aid other surrounding agencies including but not limited to, Adams, Baker, Hooker, Turpin, Seward County & Stevens County. In addition to fire calls, Tyrone Firefighters assist other agencies with Rescue Calls and Medical Calls.
Also coming to Tyrone Fire Department this spring is a fire unit from Hooker Fire Department. HFD is receiving a new truck that has been purchased with county funds; Tyrone Fire Department will be using this truck as a first out truck until a new county fire unit arrives in 2014.
One more and final update on the Tyrone Fire Department is Storm Sirens that are being installed on the north and south sides of Tyrone. These additional sirens were purchased from Seward County and will serve to better warn the residents of Tyrone during severe weather.