Tyrone Begins New Era with Similar Look
Brock Kappelmann - August 16, 2022 2:38 pm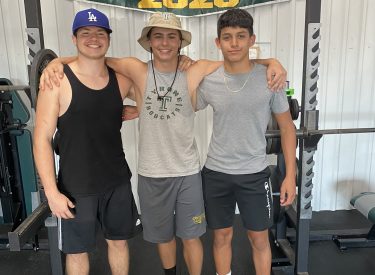 The Tyrone Bobcats will certainly enter the 2022 football season with a different look.  Payson Slater, a 2013 Tyrone graduate, steps in as head coach after Josh Bell led the Bobcats on the field for 19 years.  Bell stepped down as football coach but remains superintendent at Tyrone.  The Bobcats are 56-14 the past six years and were 9-2 last year with a trip to the class C semifinals.  Slater is the new head coach, but THS coaching stalwarts Travis Banning and Clay Witt remain on the staff which has seen so much success.  Slater knows this is a rebuilding job and the Bobcats lack size.  But he also credits his team for their work ethic in the off season and some of the Bobcats still have experience helping the Bobcats to recent success.
Tyrone has 22 players out for football including four starters back on both sides of the ball.  Some of the key Tyrone players are So. RB/LB Anthony Favela, Sr. RB/LB, Carlos Pimeto, Sr. QB/DB Connor Witt, So. G/DE Wyatt Johnson, Sr. G/NG Wahir Delgado, Jr. TE/LB Juan Chavez, and Jr. TE/DE Jeremiah Rosas.
The Bobcats were featured during Sportsguys Tuesday morning.
Schedule
September 2- Turpin
September 9- at Balko-Forgan
September 16- Beaver (102.7)
September 23- at Buffalo
September 30- Timberlake
October 7- at Sharon-Mutual
October 13-  Medford
October 21- at DCLA
October 28- Boise City
November 4- Waynoka (102.7)