Two Wins at Home for Aggie Basketball
KSCB News - November 20, 2014 6:33 am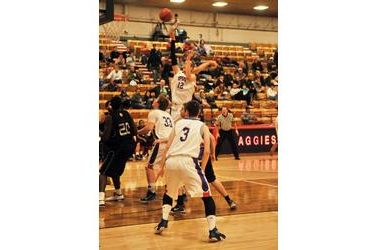 Goodwell, Okla.-The OPSU men's and women's basketball teams each celebrated
victories after their home-openers against Barclay College Tuesday evening
in the Oscar Williams Field House.
Both teams played in front of a great crowd, many of whom dressed in purple
in support of the March of Dimes Purple-Out. The Aggie women kicked things
off in grand fashion with a 91-46 win over the Lady Bears; the men followed
winning their game 93-81.
The Aggie women jumped out to an early 5-0 lead after just one and a half
minutes of play thanks to the quick work of senior forward Jaclyn Becker who
grabbed an offensive rebound, sank two free-throws, blocked a Barclay shot
and drained a three in that short amount of time. Becker led the game in
scoring with 23 points and brought down six rebounds against the Lady Bears.
Assistant Coach Matt Creamer was proud of how Becker stepped into the
starter position as senior, "Everyone accepted their roles and played well
together. When Jackie learned she was starting, she lit up and went after
it."
At the half the ladies of OPSU had a 48-27 lead, 17 of those points coming
from Becker alone. By the 14-minute mark the Aggies enjoyed a 33-point
cushion thanks to the help of Tatyana Bell who accounted for six points, two
rebounds, one steal and an assist to start the second half. The Aggies
continued to feed off of their own momentum and held Barclay to a 25 percent
shooting percentage in the second half and finished with a comfortable
45-point victory.
Creamer said this of the win, "It was great to get a win at the first home
game in front of a good crowd. We look to build on this win as we travel to
Alva Saturday to play Northwestern. We're used to having a one-play
mentality; we will also keep a one-game mentality taking one game at a
time."
In addition to Becker, the following Aggies made strong contributions
against Barclay: Bell totaled 16 points and a game-high eight rebounds;
Kiera Waters finished with 15 points, five rebounds and three assists;
Jacinda Balderrama offered a game-high of four assists. Leading the Lady
Bears was Goodwell's own Shandy Edenborough who finished with 21 points and
six rebounds. The Aggies shot 42 percent from the field and scored 38 points
off of Barclay turnovers. The ladies' record now stands at 1-2 on the
season.
OPSU's men got off to a slow start in their match-up with Barclay, allowing
the visitors to control the lead through the two-minute mark when Nico
Meadows hit a layup followed by three successful free-throws and a shot good
for three to pull the Aggies into the lead by two at the half (43-41).
Head Coach Jerry Olson said that he was "very frustrated with the way we
played and how we started the game. They (Barclay) out-hustled us to loose
balls and rebounds."
The Aggie men pulled together in the second half and held the lead for the
rest of the game going up by as much as 17 points at the four-minute mark
thanks to freshman guard Austin Beene who drained a layup and two threes in
a row. Beene finished with 11 points along with Meadows who also led the
Aggies in rebounds with five.
In their first win of the season the Aggie men shot 48 percent from the
field and 70 percent from the line; Barclay led defensively with 36 total
rebounds to the Aggies 25. Like the ladies, the men's team also capitalized
on turnovers scoring 40 points on take-aways. Barclay's leading scorer was
Andre Barnes with 16 points, while Charles Brodhead led in rebounds with a
game-high of seven.
Antonio Manns, Jr. proves to be a consistent leader for the Aggie men
scoring another game-high with 28 points; Manns also grabbed four steals
from the Bears. Marquavius Williams tied the game-high with four assists and
London-native Mantas Adomaitas shot 63 percent from the field, 75 percent
from beyond the arc and went two for two from the line.
Olson gives credit to the Barclay players saying, "They played really well."
He adds this of his team, "I'm really happy with Antonio's performance, he
was very good and did a good job on defense. I'm also really pleased with
Mantas; he did what he was supposed to. 'Quay' Williams is also a steady
player and a guy I can really trust."
The Aggie men also move to a 1-2 record and will continue home-court action
this week as they play Northern New Mexico College Thursday evening at 7:30
p.m. Aggie fans are encouraged to take part in the Aggies CAN Make a
Difference Food Drive by bringing non-perishable food items to each home
game through Dec. 18.
###
Justine Gaskamp