Two Vehicle Accident Injures One Saturday Afternoon
Joe Denoyer - June 3, 2020 12:03 pm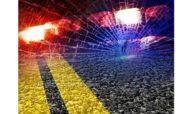 On Saturday, May 30th 2020 at 3:01pm, officers of the Liberal Police Department responded to a two-vehicle accident that occurred at the corner of 10th and Nebraska Ave.
When police arrived, they learned that a 40-year-old female driving a 2007 Nissan Altima had been traveling westbound when she was struck by a 2015 Ford Fusion driven by a 44-year-old male.
The driver of the Nissan Altima complained of shoulder pain and was later transported to the Seward County Medical Center.
The driver of the Ford Fusion was issued citations for Failure to yield the right of way and expired driver's license.
Both vehicles were able to be driven from the scene.