Two Vehicle Accident Injures Liberal Teen
Joe Denoyer - November 22, 2020 3:54 am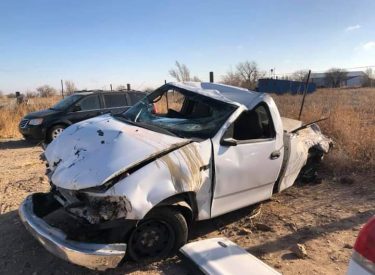 A two vehicle accident has injured a Liberal teen. The accident occurred Saturday evening at approximately 9:14pm at the intersection of road 9 and US Highway 83.
A 2016 Dodge Ram 1500 being driven by Orlando Hernandez Jr., 21, of Sublette, was Soutbound on US 83 and a 1999 Ford F150 being driven by Tucker Betts,19, of Liberal was heading east on Seward County Road 9. Betts failed to stop at the stop sign which caused Hernandez to strike the Ford in the Southbound lane of US 83. The Betts vehicle crossed US 83 and rolled half a time coming to rest facing North on its top. The Hernandez vehicle crossed over center line rotating counterclock wise and came to rest facing North in the East ditch.
Betts was taken to Southwest Medical Center with serious injuries, while Hernandez was not injured.