Two Vehicle Accident in Haskell County Injures One
Joe Denoyer - February 4, 2021 9:09 pm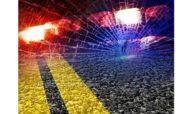 A two vehicle accident occured at 3:10 Thursday afternoon at LL Road and 170th Road, 2 miles north and 1 mile west of Sublette, KS.
A 2014 Peterbilt semi being driven by Jose Betance- Montes, 32, of Hugoton was northbound on LL road while a 2018 Ford F150 being driven by   Geary Blevins, 67, of Pierceville KS was eastbound on 170th road. The semi failed to yield to the pickup at the intersection and struck Ford in the middle of the intersection. The pick up then struck a light pole and rolled approximately 1 time, coming to rest in a field. The semi came to rest in the East ditch.
Blevins was taken to Satanta District Hospital to be treated for his injuries. Betance-Montes was not injured.