Two Suspects Sought In Ulysses Bank Robbery
KSCB News - July 27, 2010 12:00 am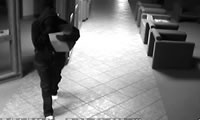 Authorities are searching for two suspects in the weekend robbery of a Ulysses bank.
The FBI said the robbers were able to gain entry to Western State Bank, 1110 W. Oklahoma, just as it was opening for business Saturday. One of the suspects showed a knife during the robbery.
The first suspect was wearing dark pants, a dark hooded sweatshirt, black mask and white footwear.
The second suspect was wearing dark clothing and a black mask.
Anyone having information about this bank robbery or person involved is requested to contact 1-800-KS-CRIME.