Two Semi's Involved in Accident in Meade County
Joe Denoyer - April 2, 2020 7:11 pm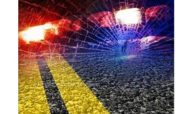 A two semi accident occurred Thursday afternoon at approximately 3:50am on US Highway 54, 200 yards east of K98/US54 junction. A 2015 Freightliner being driven by Reginald Johnson,59, of Bay Point California, was stopped to make a turn when a 2020 Freightliner being driven by Alan Mielke, 47, of Kiester Minnesota rear-ended the Johnson semi.
Johnson was not injured. Kiester was taken to Meade District Hospital with minor injuries.
Seatbelts were in use in both vehicles.