Two Saints Shine at Mullen Camp
KSCB News - July 20, 2012 1:48 pm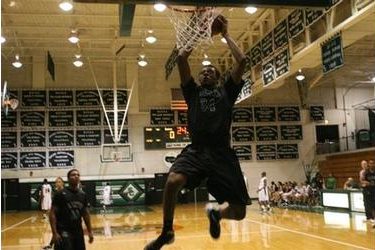 The top 100 junior college players in the country
gathered in St. Louis this weekend for one of the most anticipated
junior college basketball events of the year, the Mullen's Top 100
showcase event. Once again, a pair of Saints were chosen for the invite
only camp, and once again, the slew of Division I coaches in attendance
had their eyes fixed on the Seward stars. This time it was big man
Edson Avila and Texas Southern transfer Jabari Peters that had the
gallery planning trips to Liberal in the winter. After a solid freshman
campaign in the middle of the paint for the Saints where he averaged 6.1
points, 5.4 rebounds, and blocked a team high 44 shots for Seward, Avila
turned heads at the camp with his all-around performance against the
nation's elite. "He showed a good presence on the block offensively,
played with a lot of energy as usual, and was one of the better low post
defenders at the event" said Saints Head Coach Bryan Zollinger. The
Seward coaches have already fielded calls from a number of Division I
coaches on the 6'10 center and expect that those will continue after his
showing in the Show Me State. Peters, who has yet to don Seward green
and black in a game yet for the Saints, also represented well for the
school he will soon be attending. "Jabari handled the ball really well
and made some shots from the outside" said Saints Assistant Coach Jason
Sautter. "He can do a little bit of everything" Sautter continued.
Peters will transfer to Seward from Texas Southern to play his sophomore
season after seeing action in 26 games for the Division I Tigers last
season.