Two Players Win Bountiful Prizes in Boot Hill Bounty Second-Chance Drawing
KSCB News - December 20, 2010 12:00 am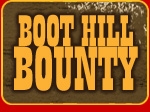 TOPEKA, KAN. – Two lucky players have each won bountiful prizes in the first of three Kansas Lottery Boot Hill Bounty drawings that was held today at Lottery headquarters in Topeka.
Susie Williams of Liberal and Jodi Ediger of Newton were the lucky winners. They will each receive a four-day, three-night trip to historic Dodge City, including a double occupancy hotel room at the Boot Hill Bed & Breakfast, Boot Hill Casino & Resort package, VIP tour package of historic attractions in Dodge City, local restaurant package, Old West photo session, mandatory income withholding taxes, and $2,500 cash! The total value of each prize package is approximately $5,600.
Any player who purchases $10 or more in Kansas Hold'Em on a single ticket will automatically receive a "Boot Hill Bounty" entry form. To become eligible to win one of four remaining prize packages, a player must complete the entry form and mail it to the Kansas Lottery at the address indicated on the entry form. Entries may also be deposited into any receptacle specifically designated by the Lottery, including those at the Lottery offices in Topeka or Great Bend.
There were approximately 2,990 entries in today's drawing. Two remaining drawings will be held, with two trip packages awarded in each drawing. All tickets remaining after each drawing will be destroyed. The drawing dates are:
January 28, 2011 (entry deadline January 25)
March 11, 2011 (entry deadline March 8)