Two Out Toughness Helps Bee Jays Rout Twins
Brock Kappelmann - July 22, 2020 6:39 am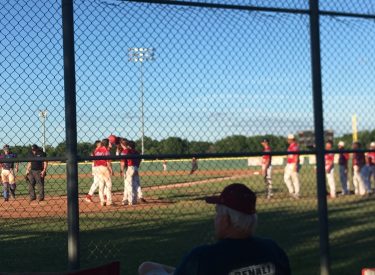 The Liberal Bee Jays scored 11 of their 16 runs with two outs on the way to a 16-6 run rule win over the Derby Twins in Derby Tuesday night. The game went eight hours innings.
A seven run second inning sent the BJ's on their way. Wyatt Grant cracked a two run homer over the left field wall.  With two outs, Jack Malone drove home a run with a single up the middle.  Cayde Ward hit a grand slam to left center.  Derby crept back into the game with a run in the fourth and two in the fifth to make it 7-3.  AJ Folds and Jack Malone singled to lead off the sixth.  Folds scored from home on a double steal when Malone stoke second to make it 8-3.  With two outs, Aidan Shepardson hit a bounding ball to short for a hit and an RBI.  The ball bounced  by the Derby shortstop allowing a second run to score and make it 10-3.  The Twins came right back with three in the sixth to make it 10-6.  In the seventh, Folds and Malone singled again.  Ward lived a two out single to left to make it 11-6.  Wilson Ehrhardt cranked a three run homer to center for the 14-6 lead. Shepardson singled and newcomer Cody Bigford singled to lead off the eighth.  Folds and Malone provided RBI singles.
The Bee Jays out hit the  Twins 16-8.  Derby had two errors and the BJ's had one. Jack Malone was 5-6.  AJ Folds was 3-4 off the bench. Aidan Shepardson was 3-5. Cayde Ward drove home five runs.
Aaron Funk wiener four innings with seven strikeouts allowing three runs.  Eric Heiman was stellar out of the bullpen working three innings with six strikeouts, no hits, and no runs.
The Bee Jays are 23-5 and Derby is 11-17.  The same two teams play Wednesday night at 7 with the Dugout Show at 6:45 on 1270 and kscbnews.net.