Two Lady Saints Sign with Division 1 Schools
KSCB News - November 15, 2012 7:14 am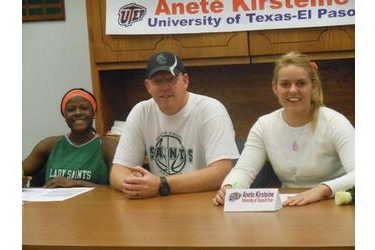 Two Seward Lady Saints signed with division 1 schools Thursday afternoon in the All American Room at SCCC/ATS. The 5'1" point guard from Bellwood, Illinois Ricquia Jones signed with Indiana State while 5'11" Anete Kiresteine from Latvia signed a UTEP.
Jones played in the WBCA All Star Game this summer after averaging eight points, four assists, and three steals per game during her freshman season. She averages 13 points per game this season and is shooting 72 percent from the field. She will play for Teri Moren at Indiana State. The Sycamores were 15-16 last year and 9-9 in the Missouri Valley.
Kirsteine scored 11 points a game as a freshman at Seward and made 66 three pointers and hit 46 percent of her three's which is second best in school history. She was averaging 16 points per game this year before injuring her knee costing her the rest of her Seward season. The good news for UTEP is they could get her for three seasons if she is granted a medical redshirt which Seward officials think will happen. Kirsteine will play for former Independence coach Keitha Adams. During the past six years, the Miners are 129-58 trailing only Baylor and Texas A&M in the Lone Star State during that time.