Two Lady Saints Represent at European Championships
KSCB News - July 6, 2015 2:29 pm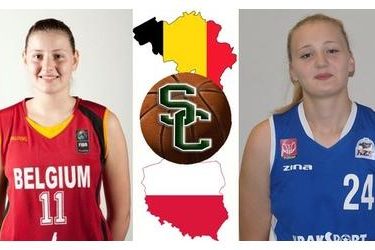 While most college students are soaking up the rays of the summer sun, a pair of Seward County Lady Saints are going at it on the hardwood with their countries flags draped on their backs. Seward soon to be sophomores Axelle Bernard and Joanna Grymek are both hard at it this month, competing for their home countries of Belgium and Poland in the 2015 FIBA U20 European Championships in Spain's picturesque Canary Islands.
Bernard, a 2nd Team All-Jayhawk West selection for the Lady Saints last season as a freshman is competing with the Belgium U20 team in the tournament. Belgium finished in a three way tie atop the Group D standings in the first round of the tournament as Bernard put up 5.3 points and 6.3 rebounds per game in three contests. In Belgium's opening game of the tournament Bernard was 4 of 8 from the field, good for 9 points to go along with 4 rebounds in 25 minutes of work as the Belgians walked over Ukraine 66-38. In the Belgians second contest against Portugal, she hauled in 6 rebounds as Belgium fell 61-48. In Belgium's final game of the first round, Bernard helped the Belgians to a big 68-65 win over the Dutch as she scored 7 points and had a game high 9 rebounds. Bernard and Belgium advance to the second round of the tournament where they will face a stiff test in their first Group F round contest as they take on the tournament hosts Spain on Monday before battling Hungary Tuesday and the Italians on Wednesday.
Grymek, who redshirted for the Lady Saints during their National Tournament season in 2015 , is donning her nations jersey for Poland. Poland finished 2-1 in their Group A first round pool play to advance to the round of 12. In their opener, Poland knocked off Germany 68-55 as Grymek saw 3 minutes of action, scoring a point on 1 of 2 from the free throw line. In their second game, Poland fell 54-50 to Russia in a nail biter, while Grymek and Poland bounced back in their first round finale against Serbia, winning 55-46 to advance to the second round. Poland's tournament continues today as they take on Slovakia in a Group E second round game before battling France on Tuesday and Latvia on Wednesday as they try to push their way on to the quarterfinals this weekend.
Roy Allen