Two Former BJ's Start in Playoffs
KSCB News - October 6, 2010 12:00 am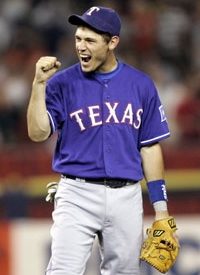 Two former Liberal Bee Jays have come a long way. Texas second baseman Ian Kinsler and Tampa Bay catcher Kelly Shoppach made starts in the playoffs Wednesday. Kinsler played for Jon Wente in Liberal in 2001 and hit .280 with one homerun while playing for a team which went 31-28 and placed seventh at the NBC World Series. Kinsler played at Central Arizona College at the time. Shoppach played for Darren Thomas and the 1998 Liberal BJ's who placed fourth at the NBC World Series. Shoppach was a freshman at Baylor during that time.
This is Kinlsler's fifth year in the Big Leagues with the Rangers. He has a career average of .281 with 92 homers and 318 RBI's. He was an all star this year and hit .286 with nine homers and 45 RBI's and was sidelined due to injury and played in 103 games. Kinsler blasted 31 homers and drove home 86 last year.
Shoppach's finished his six year in MLB. He came up with Boston befoe four seasons in Cleveland. This year in Tampa he has five homers and 17 RBI's while handling one of the top young pitching staffs in baseball. Shoppach has 48 homers and 158 RBI's in his career.