Two Dodge City Com Col Players Injured In Accident
KSCB News - May 11, 2012 12:18 pm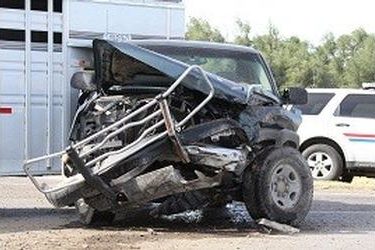 A two-vehicle accident at the intersection of U.S. highways 50 and 281 has left 3 people injured, including two members of the Dodge City Community College basketball team..
In less than a week, Stafford County first responders found themselves back on the asphalt at the infamous Highway 50/281 intersection.
A White Toyota Tacoma with Sedgwick County tags was eastbound on U.S. Hwy 50 when a Chevrolet Silverado pulling a stock trailer north on U.S. Highway 281 failed to yield at a stop sign and pulled out in front of the Toyota.
The driver of the car, Tyler Hosman of Wichita, was taken to Stafford County Hospital for treatment. His passenger, Anthony Phillips of Wichita, was flown to Via Christi St. Francis in Wichita. He is in serious condition. Hosman, a freshman, and Phillips, a sophomore, are on the Dodge City Community College basketball team.
The people in the other vehicle, Therean Towns and Mary Towns of Palco, were taken to Great Bend Regional Hospital.
Photo courtesy of St. John News, www.sjnews.com