Two Bee Jays Make Perfect Games Top 10 From Jayhawk
Brock Kappelmann - August 31, 2016 1:00 pm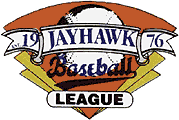 Perfect Game Jayhawk League Top 10 Prospects
1. Austin O'Brien- 1B- Hays (Oklahoma)- 6'3, 200 lbs, Junior, R/R
2. Taylor Snyder- SS- Liberal (Colorado State-Pueblo)- 6'2, 175 lbs, Signed, R/R
3. Mike Mioduszewski- OF- Hays (Eastern Michigan)- 6'4, 240 lbs, Junior, R/R
4. JB Olson- RHP- Liberal (Oklahoma)- 6'2, 200 lbs, Junior, L/R
5. Keegan Curtis- RHP- Hays (Louisiana-Monroe)- 5'11, 185 lbs, Freshman, R/R
6. Chase Calabuig- OF- Dodge City (San Diego State)- 5'11, 185 lbs, Sophomore, L/L
7. Tyler Sutherland- OF- El Dorado (Missouri Southern)- 6'4, 205 lbs, Junior, L/L
8. Hayden Hibler- RHP- Wellington (St. Mary's)- 6'5, 235 lbs, Junior, R/R
9. Ian Dawkins- 2B- Dodge City (Sacramento State)- 6'0, 175 lbs, Sophomore, R/R
10. Jake Moore- LHP- Haysville (Oklahoma Christian)- 6'0, 175 lbs, Junior, L/L
While it was a good year for the overall strength of the Jayhawk League in 2016, sending four teams to Championship Week of the NBC World Series, it was a down year for can't miss type pro prospects.
Leading our Perfect Game Jayhawk League Top 10 is Hays' Austin O'Brien (Oklahoma) who finished just two hits shy of capturing the league's Triple Crown this summer. With a solid frame and good power to all fields, O'Brien led the league in a number of categories this season including home runs (9), RBI's (48), doubles (17), and runs (48), all while hitting a cool .410. A three year starter at Oklahoma, if O'Brien can carry his wood bat swing over to campus in Norman this season, he will be a good senior draft for a lucky MLB club.
While in the league just a short while before signing with the Colorado Rockies as a 13th round pick, Liberal shortstop Taylor Snyder (Colorado State-Pueblo) made his mark. In just four games with the Bee Jays, Snyder cracked three doubles and two home runs, while driving in six. He finished his short stint slugging .833 with an OPS of 1.166 and has carried it right into his professional career with a slash line of .270/.341/.522 through 33 games.
Another Hays Lark, Mike Mioduszewski (Eastern Michigan), showed arguably the most power in the Jayhawk League, finishing second to his teammate O'Brien with eight long balls and 43 RBI's while winning the home run derby at the NBC World Series. At 6'4, 240 lbs, Mioduszewski's body projects out well while the outfielder has shown good athleticism for his large frame.
Rounding out the top five are Liberal's JB Olson (Oklahoma) who did not allow an earned run in 11 1/3 innings as the Bee Jays closer and Hays right hander Keegan Curtis (Louisiana-Monroe) who posted a 3-0 record with a 1.43 ERA for the Larks. Olson comes at hitters from a low 3/4 arm slot with a 89-91 mph heater as well as an above average slider that he can throw in any count. In his junior season with the Sooners, Olson threw 53 1/3 innings out of the pen, notching a 2.01 ERA with 43 strikeouts as opponents hit just .234 against him. Curtis joined Hays midway through July, making back to back starts without allowing a run to begin his Larks stint. He really turned it on in the NBC World Series where he threw six innings while striking out 11 against KCBL Champ Hutchinson in his first start and opened even more eyes with a five inning, nine strikeout performance against the Kansas Stars who threw out a lineup including former MLB stars Adam LaRoche, JD Drew, Jack Wilson, Brandon Inge and company. He works 89-91 with a put away 11-5 curve.